I was in a routine meeting with growth guru, Robert Norum, last month and we were discussing the economy, B2B marketing budgets, the stop/start nature of the market and more. The he dropped his bombshell. "I've got a new take on account-based marketing that's perfect for recession", he said. "I'm calling it Full Stack ABM", he continued, "and I'm launching it through [B2B Marketing's] Propolis."
After he'd given me a quick overview I was hooked and booked him back into the studio two days later. The result is this week's podcast – one of our Resting Recession series on the Marketing Difference channel which is available now on all the major podcast platforms (Apple | Spotify | Amazon | Google | Audible).
Introduction to Robert Norum
Robert Norum is a seasoned business-to-business marketing expert. Like me, he's worn well 😉 so it's hard to believe that he has over 30 years' hands-on experience. I love talking to Robert because he has a knack for navigating the complex world of B2B marketing and making things so simple to understand.
We know him as the "growth guru".
While his background is broad, these days he seems to specialise in account-based marketing (ABM) and he's been instrumental in helping numerous companies develop their ABM strategies.
Now, as the Growth Hive Leader at Propolis, B2B Marketing's CMO community, Robert has built a reputation for his deep understanding of ABM and dedication to helping clients find effective solutions to their challenges.
Why Full Stack ABM matters
As a B2B marketer, you've obviously got to have a recession-resistant strategy in place to survive the misery we're all living through. You can't just cut. That doesn't work. We all know it, but we all do it because it seems safe. And who's to blame those of us hitting the brakes? The CFO obviously, but we're all too scared to tell her. There are no prizes for spending money. Getting things wrong right now is risky if you rate your reputation. Recession sucks.
This is why Full Stack ABM matters. It's a strategy any B2B business can use to focus activity, align your marketing and sales, optimise resources, and give love to the accounts that matter most.
What's more, the insights gained from Full Stack ABM help you make data-driven decisions, enabling your business to thrive even in the face of economic challenges.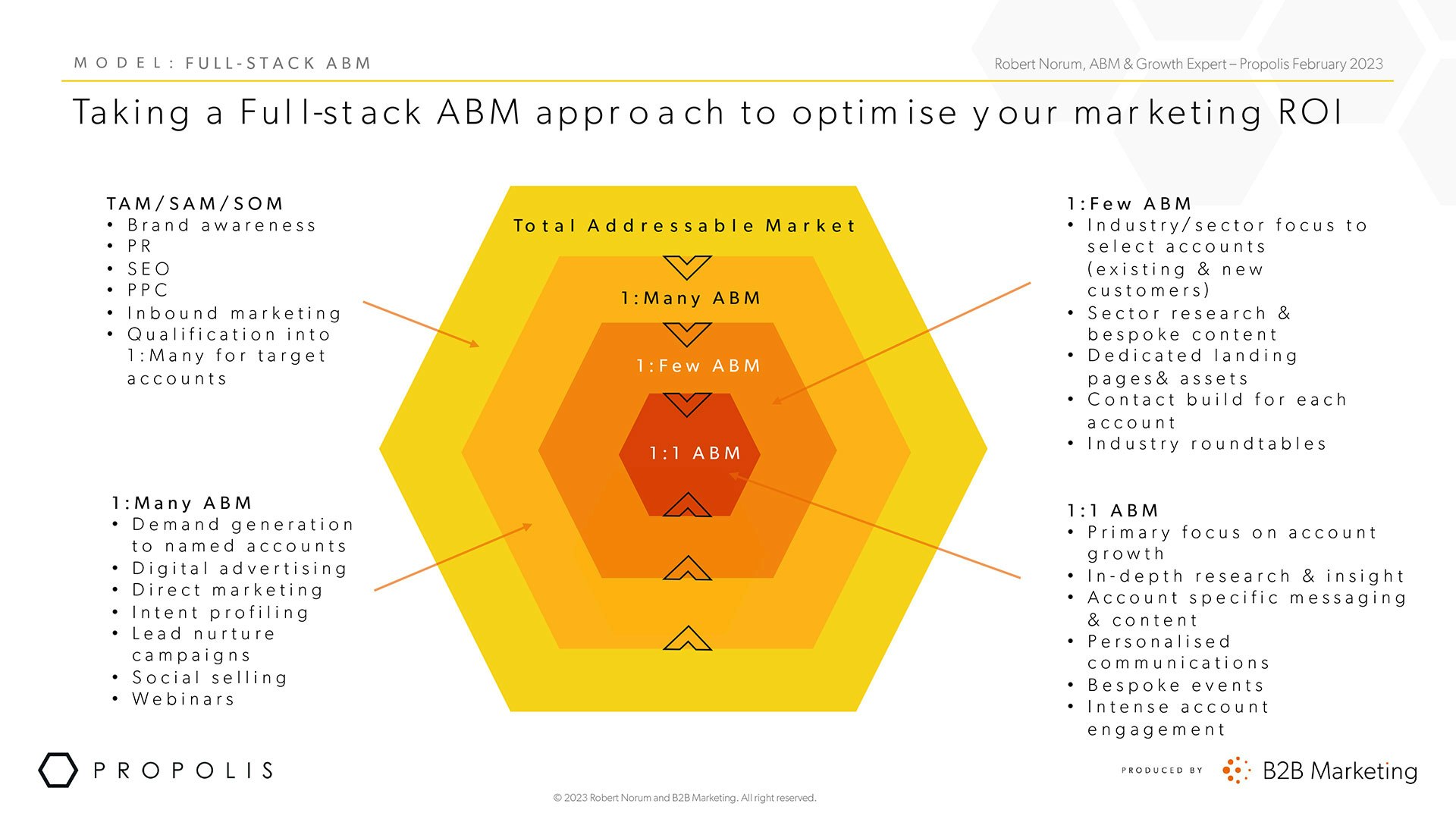 What is Full Stack ABM?
Norum explains in the podcast:
"Full Stack ABM is creating a holistic approach to your entire marketing strategy with ABM right at the centre of it. 
"So, if you imagine an archery target. The total size of that target is your total addressable market and of course you've got to know what that looks like. 
"From there, you've got to start thinking really intelligently about how do your demand generation. For my money, traditional demand generation now should be replaced in its entirety by one-to-many ABM. 
"In that context, what you need to do is you need to look at your total addressable market, you need to think about the accounts that are most important to you and ignore the rest. You're removing wastage. You're getting away from throwing mud at the wall and hoping some of it will stick. That's the old way.
 "These days, through using predictive analytics, intent tools and working closely with the sales team, you can target the top 100, 200, 500 companies and focus all of your demand generation activities [outside of brand and so forth] at those companies."
As Norum explains the rest of the model on show, it should dawn on you that this is an approach that really can work. Best of all, because it's so focused the price should please your CFO too. Happy CFO, happy CMO.
If you'd like to find out more, you can listen to the episode or visit the show notes on marketingdifference.co.uk. We've posted a few extras there too including a hive shaped model that represents the tool graphically.
We hope you enjoy the episode as much as we did recording it. If you did, why not review the podcast for us?